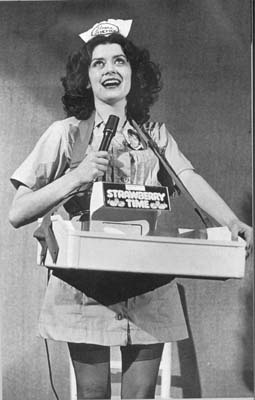 Trixie is the dancing part to Science Fiction: Double Feature. This part is also known as "Lips". Here are costuming ideas and duties:

This part was originally played by Magenta and was dressed as an usherette. Now the person playing Trixie is almost always a Trannie as well. You can go with the traditional usherette theme. We have a white "candy box" that's trimmed in black and gold for the use of Trixies, if you'd like to match it. Otherwise, you can do some other theme. Here are some suggestions (but feel free to use your imagination):

Some kind of cute lingerie
School girl
Librarian that strips down to lingerie
Super hero

There is a basically choreographed routine for this number, if you'd like to learn it. Or you can do your own, as long as you practice.

Trixies should help sell things before the show and clean away props during the performance.


In the works are some "Boxing Tart Cards" that Trixie will hold up during the show at appropriate times. Here are examples of what cards will say to prompt the audience:

"Rice" during the wedding scene
"Rain" during the car scene
"Cards" during I'm Going Home

Since most Trixies perform as Trannies as well, also check out the Trannie costume page.